Halloween involved the first coup of her career. She asked to be Clifford the Big Red Dog and so I dutifully ordered the costume. I also made myself an Emily Elizabeth costume. At the very last moment she refused to be Clifford and decided to be Princess Pea (if your kid doesn't watch this show, try it out. These kind strangers are teaching my daughter to spell!).

Here we are pre-taking-candy-from-strangers*: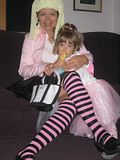 Why did I forge ahead, you ask? Because I had mofo 2nd degree burns all over my fingers and lint all over my house from making that effing wig, that's why.

Funny thing? We were planning to hit our friends' neighborhoods but only made it to the ones right down the street. The daddy was out with his girls in a wagon. We spotted him and I jumped out. "Hey Kris! We'll park at your place and catch up with you, okay?!" and his odd stares and giggles made sense when his wife confessed she'd forgotten to tell him we were coming. Thanks for that, Christina.

***

For over 3 years she's allowed me to dress her and do her hair as I see fit. Those days are over. Yesterday we went to AC Moore and she had a lively conversation with a woman and her son about her hair clips, her furry coat and her Uggs. Also that sometimes she's a princess and that if mommy wipes her butt, mommy has to wash her hands but she doesn't. All the while she was in her new crazy hair-do which consists of many small colored band holders AND a handful of my haircutting clips. I'm all about choosing your battles. These days I have so many from which to choose that I generally allow her to roam the town looking for all the world like a midget maniac.











***

For her flu shot I convinced her that Princess Pea called and was wearing ponies today, hence the mildly normal hairstyle. What you can't see is that she's wearing one brown Ugg boot and one pink Ugg slipper. Pick your battles, right?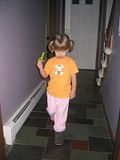 What you also can't see is that in the rush to get us all in the car and to the doc's office for the 6:30 shot, I forgot to put on my shoes and I had on my Ugg slippers, too. Both pink. "No one will notice," assured Bear.

Everyone, including other parents, kids and the nurse, looked at my feet.



*We spend a fair amount of time trying to equip our youngsters with a healthy hesitance regarding strangers, touching, candy, etc., yes? And yet Halloween involves a special outfit to go door to door to take candy from strangers. And Christmas time? Puh-lease. I don't think it's a great idea to stand in line to coax our children to sit in the lap of an old man who promises them presents. I'm just sayin'.